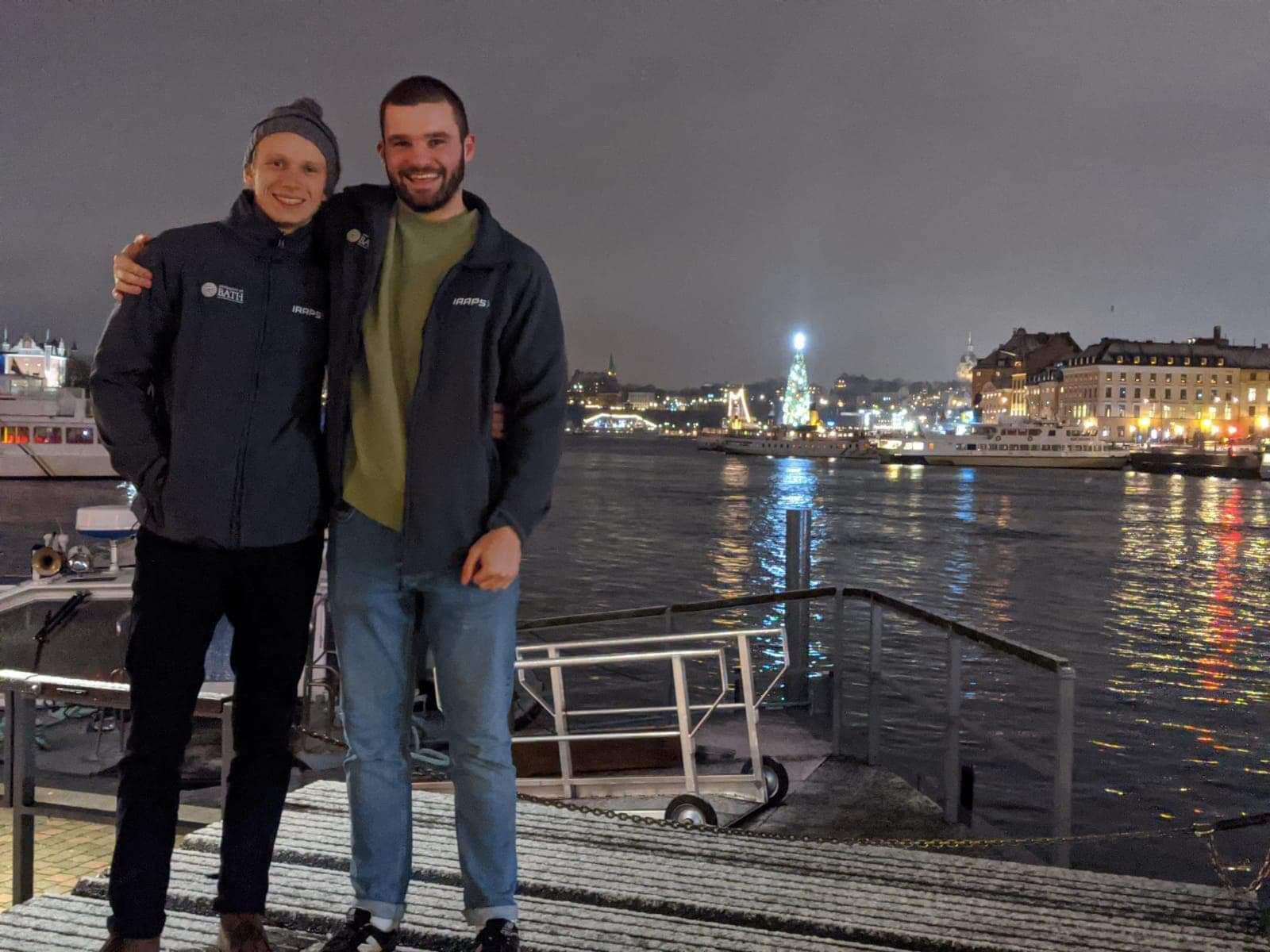 Rob and I are both students who are part of the AAPS CDT, who will be doing projects in part of the same structural battery research group at the University of Bath. We will be working closely with carbon fiber and trying to include this material in lithium-ion batteries, which will hopefully lead stronger batteries that can have many different uses. The group we have joined has only just started, so we travelled to Sweden to visit Chalmers University of Technology and KTH Royal Institute of Technology to talk to other groups we are collaborating with, that are already researching in this area, so that we can learn in more detail about where we can go with our research.
Day 1 - Heathrow to Gothenburg
We started off the day far too early at 5:30am to catch our early morning flight from Heathrow to Gothenburg our first stop. We stayed at a hotel at Heathrow the night before so that we didn't have to get up any earlier! The early start was made bearable by not only a great buffet breakfast, but also, we got to ride in one of the autonomous Heathrow Airport Pods. Being science and technology nerds doing a MRes in Advanced Automotive Propulsion Systems, this made us far too excited! These are slightly different to the regular airport shuttles, as, these are not electric trains that feel like the underground, these have their own small roads that they silently drive along towards the destination. Once at a parking bay, there is an electric charging portal underneath the car that connects to a terminal at the base of the car, so it becomes fully charged for the next use! These felt a bit like one of the gondola lifts at a ski resort as you sit facing the other passengers and there is no one else in sight. This is us in one of the miraculous pods!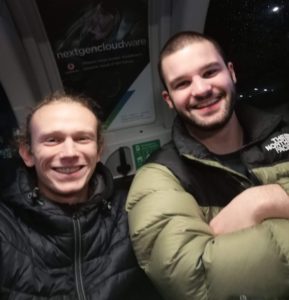 We had a great flight due to the plane being mostly empty, so we were able to catch up on some sleep (or some quick reading of papers that should have been read days before). Once we landed, we were pleasantly greeted by security saying "god morgon", which means "good morning" in Swedish. Throughout the trip the Swedish stereotype of being incredibly welcoming, kind people was constantly being reinforced by small gestures, such as these small hellos and being asked how we were, this is a stereotype that I'm sure they don't mind me making.
Once we arrived in Gothenburg, we took the bus from the airport to the area where our hotel was located. This was an amazing drive through the forests with huge rocky facades, seeing completely different scenery to the west country of England! On arrival at Gothenburg we went for a bite to eat and then straight to the hotel to put our bags down so we could try and explore the city. Unfortunately, the weather wasn't quite good enough for us to do a proper tour of the city, so we went back to the hotel early to prepare for the next day at Chalmers University.
Day 2 – Chalmers University of Technology
Another early morning rewarded with a great buffet breakfast. Before we left the hotel, we rehearsed our presentations one last time, which went over our previous research and our plans for our PhD projects. The aim of trip to Chalmers University was to meet with professors and researchers to discuss our research aims for the next three years in conjunction with theirs. As part of the collaboration we will be working very closely with Prof. Lief Asp and his team on structural batteries, so we wanted to make sure that our research would fall in line with theirs with minimal overlap or repetition of tests. This made it a long day of presentations and discussions from different members of both groups about the research that is going to be done in the future.
After lunch we were given laboratory tours around the different areas where these particular types of batteries were constructed. We were showed various techniques and equipment used in the labs, one technique was done in an argon atmosphere inside a glovebox, which we tested ourselves! This was a great thing to do, as it meant we could start thinking about what equipment we would need to try and get back in Bath to match what they were doing at Chalmers.