The ITT is an intensive five-day research formulation workshop in an inclusive and accessible environment which is part of a credited unit on the AAPS MRes programme. It is also the final stage in a collaborative process that began in February when we paid a visit to the MIRA Technology Park to meet with the Horizon Scanning team to discuss possible topics for the event. The purpose of the ITT is not only for our students to develop their skills in research distillation, but also for our industrial partners to take advantage of the skills and knowledge of the wider IAAPS Academic Institute to solve their strategic business challenges. After this first meeting, we had almost fifteen possible challenges, all in very exciting research areas, which we now had to whittle down to just three.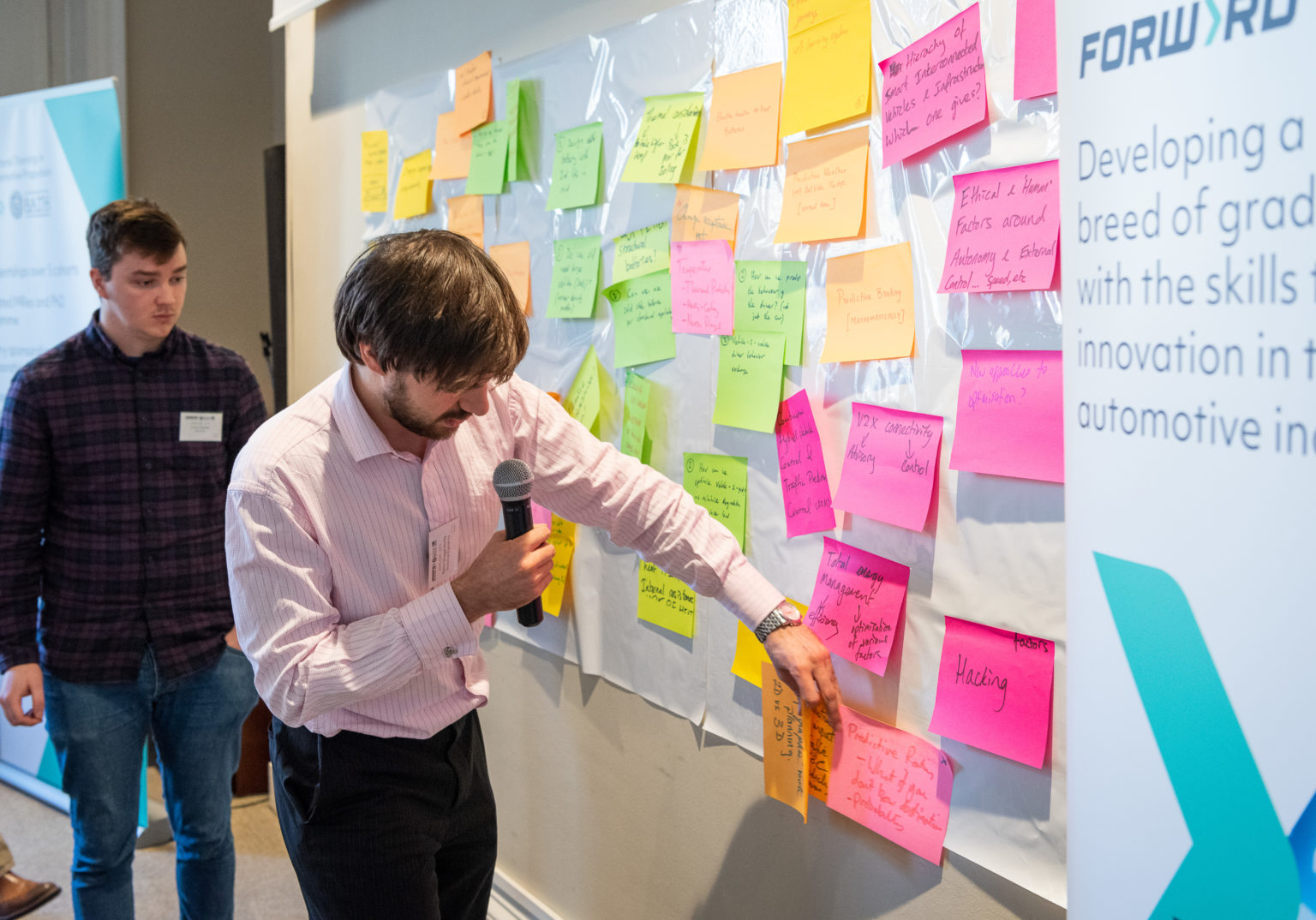 Between March and June, navigating the additional challenges that the COVID-19 lockdown presented, the topics were developed through a series of collaborative online workshops involving AAPS staff and students and the Horizon Scanning team. Meanwhile, the AAPS students were utilising the time in their student-led symposium unit to investigate existing research in the area and invite our academics to present on their own expertise, to make sure they could really hit the ground running when the ITT began.
The final three challenges that were in place when we began the event on the 1st June were:
Energy Management of Connected Vehicles
How do we holistically prove that a vehicle is carbon neutral?
How to we characterise test aggressivity?
The previous Integrative Think Tank in January had taken place at an off-site venue in a very social atmosphere and one of the biggest challenges in developing ITT2 was ensuring that we maintained that team feeling when delivering the workshop online. We learned a lot in both the planning and delivery of the online experience and there's much that we are hoping to carry on into our next ITT, in January 2020. We used Microsoft Teams to manage the group working, both the meetings and for document storage, and Mural as a collaborative whiteboard. We also organised an online pub quiz to replace the team dinner and ran daily stand-ups to make sure all the attendees came together at least once a day to share progress and insights.
The week began with HORIBA MIRA presenting their challenges to our workshop attendees. Due to the trans-disciplinary nature of the IAAPS Academic Institute, we had a broad range of participants from the following disciplines: Mechanical Engineering, Electrical Engineering, Computer Science, Mathematical Sciences, Psychology and the School of Management. HORIBA MIRA were also very generous with their time, with six representatives joining us for the week and we were also really pleased that a large proportion of our second CDT cohort, due to start in September, were able to participate too.
Following the presentation of the challenges, participants moved into breakout groups to discuss what they'd heard, create clusters of ideas and identify questions to develop further. Following this, the groups then aligned themselves to areas of specific interest and formed new groups of mixed expertise that could go one to develop these ideas into research questions over the next three days. Each group contained an AAPS CDT Cohort 1 student, plus IAAPS postgraduate students, researchers, academics and a representative from HORIBA MIRA.
Seven groups were formed through this process and on Day 5, following three days of teamwork and problem formulation, the students presented their collaborative research ideas to an audience that included workshop attendees plus further academics and researchers from across the University of Bath. So much had been achieved over the week, and it was really great to see our students present so confidently, and with some really great ideas to investigate post-ITT.
Following the Integrative Think Tank the students have undertaken an academic exercise, writing up their ideas into Research Proposals in the format required by EPSRC. Meanwhile, the AAPS CDT Management team have been in conversation with HORIBA MIRA to identify ideas to take forward together and we are already talking about possible PhD projects and the viability of a joint bid for research funding.
Thanks to the efforts and creative thinking of all our participants, ITT2 was a success and people were pleasantly surprised by how the event worked online. It's definitely made us think about how we can work together apart when we transition back to normality! Anyway, after a brief respite, it's time for us to start thinking about how we deliver ITT3 in January 2020.