Back to the posters, which we were assuming to be A1 in size (we were wrong), we thought they could do with a nicely painted backing plate to make them free standing – as no one wants flimsy posters at an exhibition. The plan was to buy MDF backing boards and to paint them with an AAPS branded paint, obviously this was the next thing to go wrong. Having scoured the local hardware stores for a couple of days for enough MDF for the posters as well as the right shade to paint them, a collective effort from the cohort saw the boards painted by 7pm 3 days before the exhibition. It later transpired that the posters were in fact self-standing and A0; noticeably larger than the backing boards we spent days sourcing and painting. This was really a blessing in disguise, as the larger posters filled the vast space we were given perfectly. A selection of premium chocolates were also procured to entice visitors to our exhibit (not that they could miss it given we took up a quarter of the room). And the last piece to tie up our exhibit was matching polo shirts for our cohort, with the icing on the cake being the QR codes printed on the back which led to our page on the AAPS website. An idea so ingenious that everyone in the CDT eventually ended up with their own polo shirts (you're welcome Jess).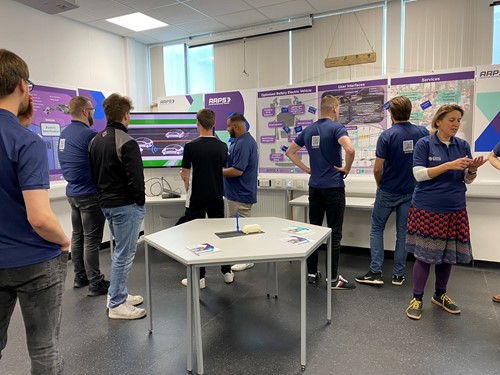 When it came time to explain the ecosystem and the methods we used to arrive at our final product, the matching polos perfectly symbolised the cohesion that the cohort displayed when talking through the proposal. Though it sounds a bit cliché, the cohort embodied the T model of knowledge down to….well a T. Everyone was able to thoroughly explain the fundamentals of the proposal to the audience and then point in the direction of the suitable cohort member if there were specific follow up questions.
Special mentions go out to Josh and Gary from 3D printing for putting up with my naivety when it came to making the models, and Jess (our Student Experience and Programmes Officer) for arguably being just as excited as us for the exhibition and designing the breaks for the story board. Lastly, it goes without saying that without the contributions of each member of the cohort, there was no way we could've pulled off such an ambitious exhibit.