No, I did not go back in time to get rich and famous thanks to modern technology. The reality is that if I did, they would have classified me as a witch and drowned me in a lake to prove it. My trip abroad, however, was so brilliant I had the chance to work on fuel cells while breathing the same air and walking the same streets as the one and only Charles the Great, first emperor of the Holy Roman Empire.
The reason for it was to carry out some experiments for my Ph.D. , more specifically, I visited RWTH Aachen University, in Aachen (Germany), to perform high-temperature densification of ceramic electrolytes for solid oxide fuel cells from the 21st to the 28th of November 2022.
Pre-departure
Before leaving, I had to figure out a way to carry my fragile pellets to the Continent and back without any damage. The other aim was to try and inflict the least amount of financial damage to my already weakened student fund (I am in my last year, so this is totally normal). This would generally be quite easy, but my samples were my samples, and that was enough for them to develop an attitude and demand special treatment. Jokes aside, they needed to be kept in a dry environment and transported for 730 km and back. Here is a map to show my modern-times Odyssey. The train was selected for environmental reasons and for ease of transportation. After all, I am an AAPS CDT student, I care about the environment!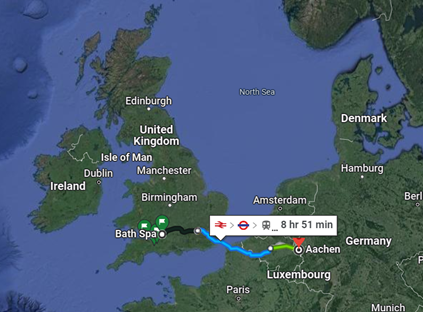 For all the reasons above, portable desiccators were designed to be able to fit at the bottom of my luggage without allowing the pellets to move. This was done using air-tight food boxes and silica-gel (often found in food packages to keep them dry). The technical staff at the University of Bath then helped me manufacture some trays to accommodate my tablets. Below a picture of this "ingenious" contraption designed for less than £10.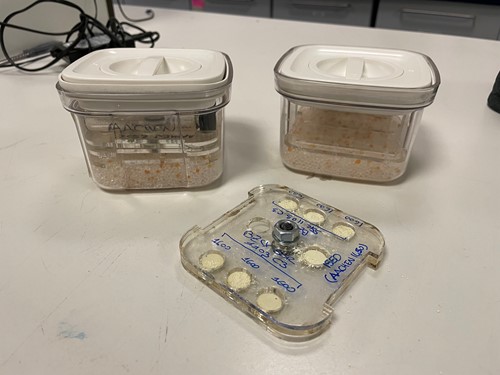 Once the pre-treated samples were placed into the desiccators, it was time to pack to leave. This was my first time taking the train via the Channel Tunnel and I was very excited!
Eurostar Journey
To reach Aachen on land, three trains are needed. The first one is from Bath Spa to London St Pancras, the second one is the Eurostar from St Pancras to Brussels Midi, and finally a train to Aachen. The journey was incredibly nice and, being early in the morning, I took advantage of the daylight to look out the window and witness the natural change in scenery while crossing multiple countries (all at a comfortable speed of 300 kmph): first England, then France, Belgium, Netherlands, and finally Germany!

A few fascinating facts I have learnt while crossing the channel with the Eurostar (I had a few hours to kill!):
Boring of the service tunnel started in 1987 and 11 boring machines were used to make the Tunnel reaching a total weight of 12,000 tonnes – more than the Eiffel Tower!

Travelling by Eurotunnel emits 73 times less CO than travelling by ferry.

The first ever passenger on the shuttle was Her Late Majesty Queen Elizabeth II in 1994.

A Eurotunnel shuttle is almost 800 meters long, the same length as seven football pitches.

For most of its course the tunnel cuts through the Cretaceous period chalk underlying the English Channel.
In essence, the Eurotunnel is an incredibly charming infrastructure with more history than we can imagine and is worth using at least once. I am grateful RWTH Aachen University and University of Bath have given me this opportunity as well as the chance to live in a marvellous city for an entire week!
Aachen
After a long journey I finally reached Aachen!
Aachen is the westernmost city in Germany and borders with Belgium and the Netherlands. Just like Bath , the city developed from Roman settlement and thermae, and just like Bath, it is incredibly hilly! Aachen subsequently became the Imperial residence of Charlemagne, and the coronation location of 31 Holy Roman Emperors.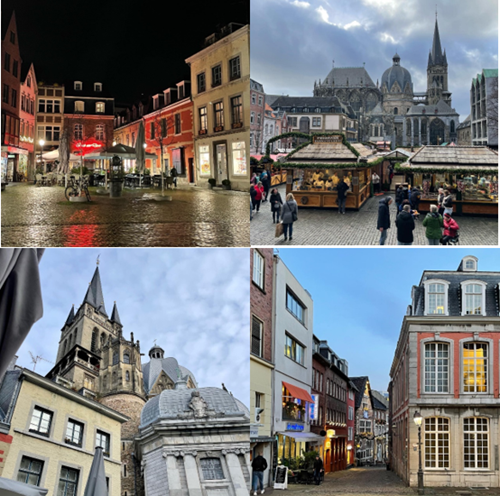 The remains of such a historical figure can be found in Aachen Cathedral, which I had the pleasure to visit several times during my stay, the first with George Harrington, my academic host, and another student. This stunning architectural marvel made me wish I could have a small replica at my house. The desire grew once I entered the building.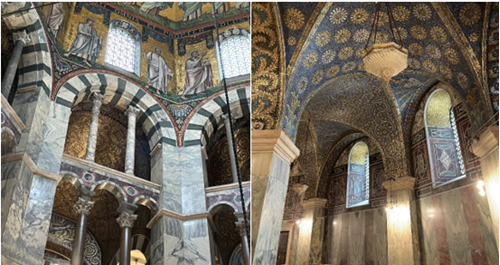 Thousands of tiles put together to give to what would be a very dark building, a rich golden light.  The cathedral is a stunning display of byzantine art from floor to ceiling and there is no doubt on how it was granted the UNESCO World Heritage status. Fun fact: locals like to brag about this being the only sacred site built by the devil. Yes, that is right! The story tells that Aachen was in financial trouble when the construction of the cathedral started. The devil, therefore, took the form of a rich foreigner willing to finance the project. He failed to mention though, that once completed, he would take the first soul entering the premises. Unlucky for him, an old woman found out about his plans and warned the bishop who, upon completion, decided to send a wolf in as first soul. The devil got so angry about being deceived that he slammed the entrance doors, leaving a big crack at the bottom which nowadays is still visible!

The tour of the place was embellished by the presence of a cute Christmas market taking over the entire city centre. Christmas lights, music, the smell of glühwein (mulled wine) and bratwurst made everything ever more pleasant and dreamy. Being a huge foodie, I didn't forget to eat some traditional food while I was there: schnitzel, bratwurst, ham, and printen. The latter being a traditional biscuit from Aachen, very similar to gingerbread but with a stronger taste of anise.
RWTH University
This is where over 2,000 years of history meets 60,000 students!
The university is a city campus. Buildings are scattered all around the city. The department I was allocated to, the institute of physical chemistry, was on top of the hill (another similarity to Bath). The research groups of the institute cover a broad range of topics: from polymers and colloids to chemistry of battery electrolytes and complex oxides for energy.
Here I found many people working on solid oxide fuel cells electrolytes, and it was nice to share experience and advice on experimental work with people working on the same topic. The students made me feel very welcome and lunches were always filled with interesting and fun conversations.
Monschau, Brussels, Three borders point
When I planned my journey, I decided it would be a good idea to stay over for the weekend to allow extra time in case of setbacks. Luckily the samples were all in great condition and I took advantage of the extra free time and the proximity to Belgium and Netherlands to arrange a few trips. I first visited the Three Country Border near Aachen. Here I crossed the border of Germany, Belgium, and Netherlands in only few seconds and had a great walk in the huge park that surrounds it. Although at some point I was not sure in which country I was in anymore.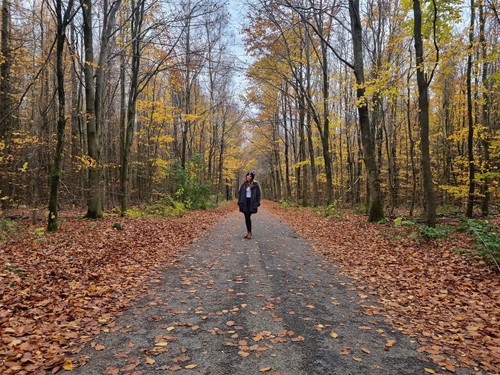 I then visited Monschau, in the Eifel region of western Germany, and a place where time seems to have stood still for over three centuries. Here I also had the chance to eat local food and try their mustard, which seems to be famous around the country. I enjoyed it so much I bought a jar and cannot wait to use it, maybe alongside some German food!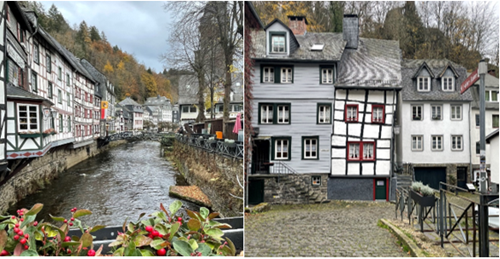 The last one was a day trip to Brussels, before taking the train that would bring me back to London. Here I only had a few hours before departure so decided to visit the European Parliament, the Palais de Justice, eat a waffle with Chantilly cream and head back to the station.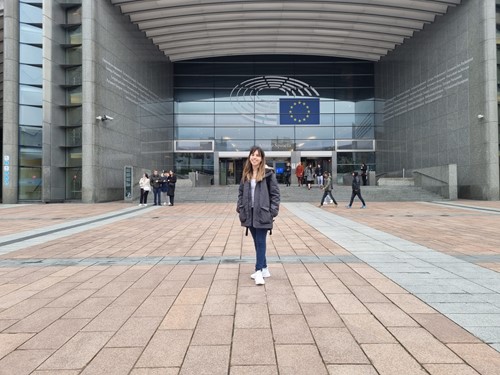 The last weekend in Germany, in fact around Europe, was fun and exciting. Despite not feeling like it in the moment, I had a well-deserved break after the many weeks of work and planning and will carry these memories with me my entire life. 
Conclusions
Despite the trip being only a weeklong, I achieved more than just successful experimental testing: I have travelled across the channel; seen 4 different countries; ate loads of typical food; expanded my knowledge about global history; experienced German culture; and made some new friends. I was anxious about this trip, thinking about all the things that could go wrong. Once it was over, I gained a great sense of accomplishment accompanied by the realisation that anything is possible when you plan carefully, and you do things with love.