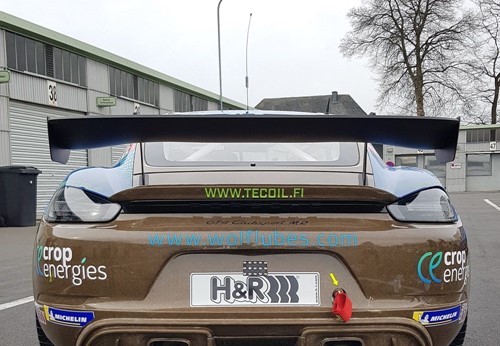 The title of this blog may sound like a paradox but if there is one thing I have learnt whilst being around fellow researchers or professors, then it is that often things that seemingly cannot go together, can actually complement one another to form something novel. So here we are, a two part blog that mentions motorsport and sustainability in one line.
Last weekend, I took part in the first event of my new racing programme for this year. Undertaken by four motors in conjunction with Porsche, the programme runs a racing laboratory for sustainable technologies under the hardest circumstances imaginable. There are three Porsches that run as experimental cars and the one I race with is a Porsche Cayman GT4 Clubsport. The team participates in the Endurance racing series at the Nurburgring Nordschleife. The Nurburgring is known to be the most difficult, longest and highest component stressing track in the world. Being 15.8 miles in length with an altitude difference of 300 meters from the lowest to the highest point, coupled with jumps and banked concrete corners, it poses a great challenge to driver and machine. That is the reason why numerous OEMs and automotive suppliers have invested into huge testing and development facilities around the track. The endurance races are between 4 and 24 hours in length and split between 3 or 4 drivers per car. However, not only the track and the length of races provides a huge challenge for drivers and machine, also the weather is extremely unpredictable with fog, heavy rain and even snow being on the cards.
What is the point then, and what does racing laboratory do?
The aim is to trial a variation of technologies and components, that are produced more sustainably and are better to recycle or bring direct environmental benefits when being used. To prove their longevity and performance, these are tested on the racing car during long and fatiguing races. Once they have passed this gruelling environment, the aim is to put these new technologies into production vehicles. The great thing is, most of these technologies are applicable and needed on all sort of vehicles, from BEV to Hydrogen to combustion and any other type of moving vehicle, making the whole project worthwhile no matter the direction of the industry.
Stay tuned for part 2 of this blog, which will go into depth and explain the current and upcoming technologies being used within this project.