On 19th September I returned from a trip to Valencia, where I attended the twelfth edition of Thiesel 2022, an international conference on the thermo and fluid dynamics of clean propulsion powerplants, hosted by Universitat Politecnica de Valencia (UPV). The event was organised by the Centre Motores Termicos (CMT) at UPV and was held between 13th-16th September. In recent years, the focus of the conference has expanded from fossil fuels and diesel engine optimisation to include topics such as decarbonisation, hydrogen propulsion, electric mobility, and digitalisation, just as we have observed in the literature and over entire areas of academia, including AAPS.
The four days of the conference featured:
Keynote speeches and technical talks of newly published papers
Poster sessions
Lab tours (of reactive flow, non-reactive flow, and e-mobility testing)
Coffee & open discussions
Opening drinks, daily lunches, and a closing dinner!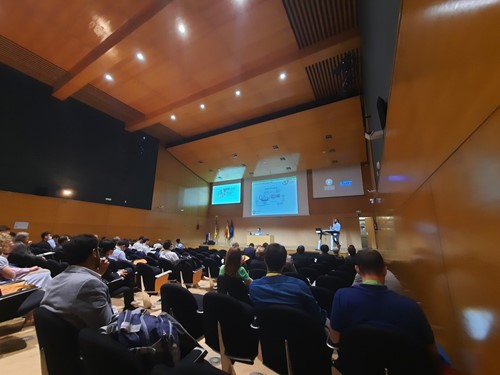 A talk in progress at UPV
The major features & my main takeaways from Thiesel
The need for a wide variety of powertrain options in the future was recognised – there will be no "silver bullet" powertrain to solve all.
H2 combustion featured frequently, especially for heavy duty uses – despite H2 ICEs possibly being "fussy" to the ambient conditions.
Futuristic technologies, such as solid-state batteries or V2X, may be closer than we think according to Hyundai.
 Arrival in Valencia and Lab Tours
I arrived in Valencia late at night on Monday 12th, and on Tuesday morning I met up with some of AAPS' collaborators at UPV. I was given a fascinating tour of their brand-new hydrogen fuel cell testing facilities, including a whole vehicle test bed set up with a Hyundai Nexo, one of the two prominent passenger fuel cell cars along with the Toyota Mirai. CMT's other main fuel cell lab (for testing fuel cell stacks outside of the vehicle) is equipped with external air handling systems, fed by a control room of various air filters, compressors, and condensers, etc. The hydrogen used in testing is generated by an electrolyser on the roof of the CMT building. There are also test cells for engines, gas turbines, and batteries, including one which can subject batteries to extreme ambient conditions.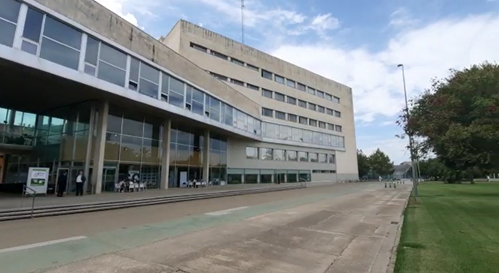 The conference venue at UPV
The Conference
Following the welcome reception on Tuesday evening, the conference talks began on Wednesday morning with a recurring theme of synthetic fuels and a circular economy. Research was presented on creating synthetic diesel from waste, such as biomass or cooking oil, with one even describing the use of waste plastic. A talk from Dr. Paul Hellier from UCL also described new research on the toxic effects of soot on humans. The keynote speech on Wednesday afternoon from Dr. Robert Plank was themed on the use of hydrogen as an energy carrier and stated the amount of water needed to create enough hydrogen for a year's worth of global energy – enough water to fill Lake Constance. The speech was a great overview of the pros and cons we could expect from a hydrogen economy and set the scene for an afternoon of talks on hydrogen combustion engine advancements.
Thermal management of batteries was the main theme for Thursday morning, and the keynote speech for the session was particularly eye-opening. Attention was drawn to social responsibilty, sustainability, and ethics necessary in the future of battery manufacturing, especially as demand for batteries grows in the automotive sector. One unforgettable statistic is that there are 50,000 children known to be working in cobalt mines in the Congo for the production of batteries. On a more promising note, Thursday also included an interesting talk on ducted fuel injection for diesel engines, which appears to alleviate the trade-off of soot vs. NOx emissions, according to recent literature. Similarly, novel piston geometries and various dual-fuelling techniques continue to drive down emissions from diesel engines.
Thursday lunchtime featured more lab tours, including UPV's 22m long wind tunnel with a 2.8m*2.8m test section. The tunnel is so large, it is fed by external air via a giant shutter which closes off in the rain, rendering the wind tunnel inoperable on rainy days. Fortunately, they are a rarity in Valencia.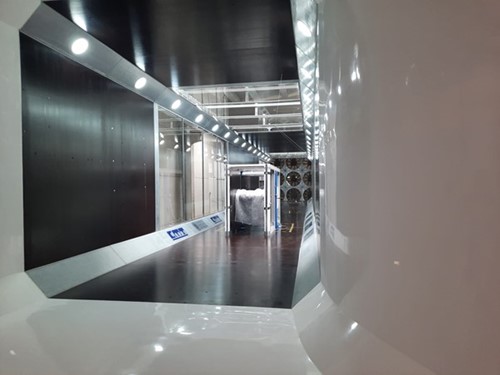 Inside the inlet of the CMT wind tunnel, looking towards the test section
On Friday, the keynote speech was delivered by representatives of Hyundai. The speech included a variety of futuristic technologies which may become reality sooner than expected. For example, modular and solid-state batteries are anticipated for pilot production in 2025, and V2X connectivity (vehicle to 'anything') appears to be a serious possibility in the near future. Some of Hyundai's line-up already allows for "V2L" – connections to home appliances whilst camping, for instance, whilst V2H (-to home) is ready for roll-out to power entire houses in emergency situations. The rest of Friday covered LCA considerations in the production of hybrid vehicles and approaches for designing ultra-efficient ICEs. The conference was closed on Friday evening with a gala dinner and flamenco performance at Hotel las Arenas!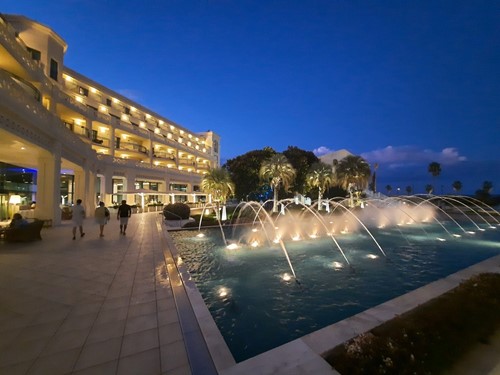 Gala dinner venue: Hotel Las Arenas
The weekend was free for me to explore Valencia, where I toured the marina and beachfront, which extends for several kilometres along the eastern coast looking out across the Mediterranean. Closer to my accommodation were the "City of Arts and Sciences" museum and Turia Garden (a 9km-long park built into an old riverbed), making for a very picturesque stroll into the city centre.
| | |
| --- | --- |
| City of Arts and Sciences museum | Malva-Rosa beach |
Reflections
Thiesel 2022 was a great experience for my first international conference, providing me with an appreciation of the variety of ongoing propulsion research. The conference's roots in diesel engines are clear, but so is its willingness to expand to new, clean propulsion technologies. I was reminded of how much we have to be excited for as researchers in the transport sector and I am greatly looking forward to seeing how the research presented at Thiesel develops!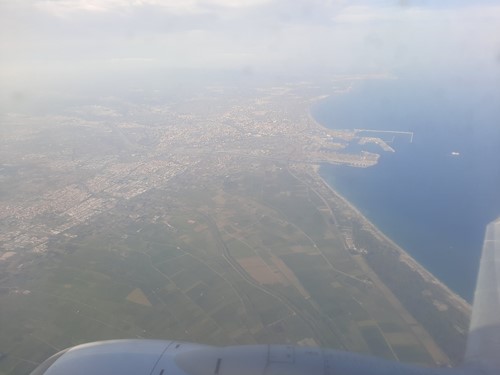 A late afternoon in Valencia from above
If anyone would like more info on the work presented at Thiesel 2022, feel free to contact me (ms3510@bath.ac.uk).