The Centre for Doctoral Training is well underway, training a cohort of 9 multidisciplinary students in Advanced Automotive Propulsion Systems. In close alignment with the Institute of Advanced Automotive Propulsion Systems (IAAPS) the AAPS CDT draws from an expert pool of specialist supervisors at the University of Bath, alongside our state-of-the-art facilities, to supply future leaders with the necessary tools for a better, smarter future. I sat with a few of the students to capture their experience so far.
Catherine, Elisabetta and Thomas have come from different educational backgrounds, having completed Master's degrees in Psychology, Mechanical Engineering and Chemistry. Now, on the AAPS CDT programme they're collaborating with each other on a myriad of workshops and lectures from battery development to how an engine works and from strategic thinking to leadership styles.
Catherine's research in situational awareness and how the brain processes large amounts of information with a high degree of risk sparked her interest in the interaction between road users and real-life driving conditions. She's said: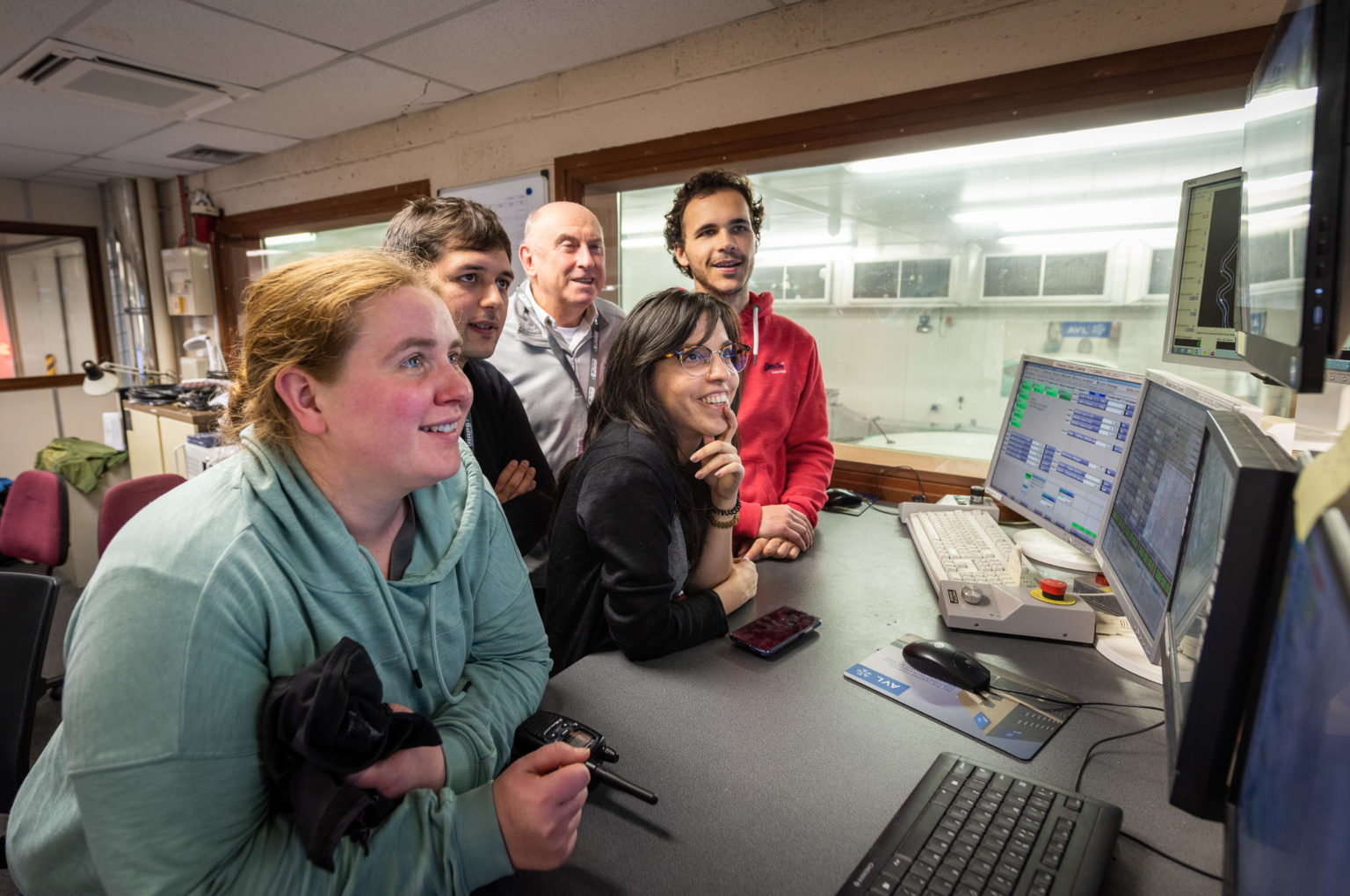 As we get more automation built into vehicles, we are putting huge amounts of cognitive load on individual road users. Understanding a vehicle system's ability to change the way a person may react is important, as well as the way different types of road users interact with each other, as we all have different understandings of and responses to a situation. So, as cars change and evolve, the way that pedestrians and cyclists react to these cars will also evolve. My aim is to use psychology to improve this interaction and leverage technology in a way that makes pedestrians and cyclists safer on the road as vehicle systems change and develop over time.
The cohort's recent trip to Warwick Manufacturing Group (WMG) was particularly useful for those without a degree in engineering or chemistry as they gained better insight into a vehicle's systems. The students were given a tour of a battery factory and enjoyed a lecture about batteries delivered by Professor Dave Greenwood, lead for the Advanced Propulsion Systems team at WMG. From a mechanical engineer's perspective, Elisabetta was well-aware of batteries and their functionality, but to witness how they are made from start to finish was a completely new experience for her.
Having competed in the European division of Shell's Eco-Marathon, Elisabetta and her team had to create a fuel or energy efficient car. They decided on a hydrogen fuelled car, prior to which Elisabetta didn't realise was even possible. In her role as Safety Officer, she was further exposed to the different types of eco-friendly vehicles and alternative fuels and was responsible for making sure that the car's systems were safe for users and the environment. From the competition, she learnt things beyond what her mechanical engineering degree taught her, which encouraged Elisebetta to seek out more ways to develop her knowledge on vehicles and how they work. Joining the CDT programme felt like a natural progression from this as she is working towards her goal of a greener and safer future.
Building on the programme's push for sustainability, a unique and equally important aspect of the AAPS CDT is that it helps students to develop a variety of technical and soft skills. Brian Rutter, IAAPS Industrial Research Fellow, leads the strategic and analytical thinking module where he delves into matters of leadership, team work and strategic projects. Having previously worked at Ford for 12 years, Brian offers industrial focus alongside technical insight, helping our students to closely apply their knowledge and skills to industry.
Coming from a chemistry background, Thomas was eager to explore this multidisciplinary aspect of the CDT programme, which has enabled him to broaden his specialism into a much more holistic set of skills. He says:
I'm passionate about being in a team that is at the forefront of industry and leading environmental and sustainable change. As well as being a big fan of cars and Formula 1 Racing, joining the AAPS CDT had a lot to do with how they were going to teach us. It's not just a normal PhD that I could have done anywhere; we are taught a broad range of things from both lecturers and workshops to the conversations we have with our peers. As a group of psychologists, chemists, aeronautical engineers and more, we are crossing borders to come up with better solutions for industry and the wider society.
Over the course of the next few months, the CDT cohort will delve deeper into their research areas whilst maintaining the collaborative synergy with their peers. They'll get closer to industry with the week-long Integrative Think Tanks (ITT) that welcomes opportunities to network as well as explore and identify their PhD topic. The student-led symposia will further advance their individual proactive skills as the cohort is encouraged to lead their own sessions, invite guests and organise workshops to further develop their thinking. Overall, the upcoming year will prepare the nine students for an exciting future in research and industry as the automotive industry accelerates the pace on the development of ultra-low and zero emission vehicles, and embraces the technical, economic and societal impact of a rapidly changing sector.