Arriving in Sweden
Three years ago, I was fortunate enough to visit Chalmers University and KTH in Sweden for a weekend with my Ph.D. supervisor to learn about my area of research, as the epicentre of structural batteries. This initial trip in 2019 eventually became a blessing in disguise as, although I was incredibly ill for the entire weekend and barely made it out of bed, I was able to establish a good relationship with the researchers from the universities we were visiting. This initial visit gave me the inspiration and confidence to try and apply for a travel fund to spend an extended period of time at the university to further my research. Due to being one of the first groups in the world to work on this research and the larger size, there was a lot of experience that I could draw from. As well as different techniques and equipment that I could use to add additional layers to my Ph.D.
I first applied for the funding in April with a rough idea of what I would be doing in Sweden, but by the time I arrived in early October this had evolved into something different. My initial idea was to research a different material for the system I was using, however, after discussions over some new data we thought it best to dig deeper into understanding the material we were already using! Looking back now, I wish didn't stress out as much making sure that I stuck to the original plan, as I was worried that this wouldn't be allowed. However, as ever in research, nothing ever goes the way you think it will! Thankfully, the CDT and my supervisory team are very supportive and understanding so I was able to be flexible with my work.
Before arriving in Gothenburg, I had to find accommodation, which was probably the hardest challenge. Chalmers were very honest at the start by saying that they will try to find university accommodation for me, but this would not be a likely option as they already struggle to find enough room for their own full-time students. So, I had to look elsewhere. It was clear that an Airbnb was going to be the best option for me as it was the cheapest place to find rent for only 3 months (and the only place apart from hotels, which were of course super expensive!). There were not many places available left for 3 months, the cheapest choices were either to stay further out from the city or to share a flat in the city centre, but I would have to move halfway through my stay to a second flat as neither were available for the full 3 months. Eventually I decided to stay further out of the city in a little suburb called 'Utby'.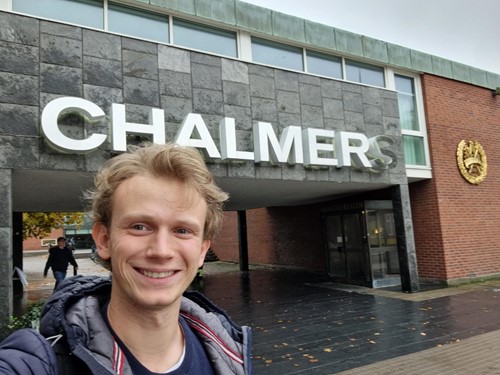 The public transport system in Gothenburg is fantastic! I had to pay £200 for a 3-month pass, however this would allow me to take any form of public transport in the city and beyond. The buses were one every 5 minutes to take you into the city and once there, the main form of transport is trams, which I didn't realise was a Gothenburg icon. Despite this, the commute was still around 45 minutes from door to door but allowed me to explore the city!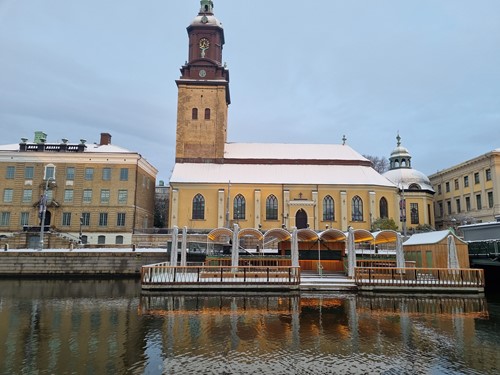 Working at Chalmers
Upon arriving at Chalmers, all the students and staff were incredibly welcoming and introduced me to the Swedish version of a coffee break, "Fika". I had never heard of this before but is a fundamental ritual in a Swedish workplace, which entails someone in the office wanting a break and entices everyone else in the office to have a break with them with biscuits… and it always works!  Although it is very important to be careful when communicating in a multilingual environment as we found out when our Italian colleagues notified us what it meant in Italian.. all I can say is be carefully googling this term!
Whilst I was working at Chalmers, I had two main objectives.
The first was to finish analysing data from an experiment completed at Diamond Lightsource, so we could discuss any next steps and try to publish the results. Once I had analysed the data and discussed it with the entire team, we decided that there was still more to be done before it would be publishable. I then went to learn about a new type of experimental method to bring back to Bath to conduct this new method on the materials we have here.
The second was to get more information that would help me develop my computational model. Using some of the data they had obtained from experimental results and their knowledge of the material, I was able to fine tune my model to be more realistic and representative of what happens in real life! This will hopefully lead me to be able to finalise the model to make it publishable at some point in the future.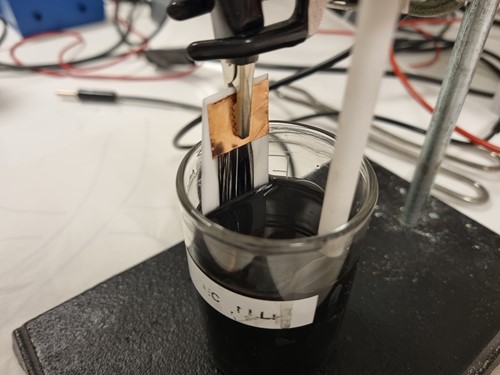 Being a chemist in an engineering dominated group, I hope that the skills I learnt from my MRes year in the AAPS CDT enabled me to be somewhat useful to some of the problems they we encountering with their research. I tried to help some of the other students, either fine tuning finite element models with some fundamental electrochemical knowledge or coming up with alternative solutions to solve the practical problems facing their experiments.  
I made very good friends whilst studying in Gothenburg, which was very interesting to learn the difference between the UK university system and the Swedish style system (I should note the caveat that this is for a specific department at Chalmers). I found that doing a PhD in Sweden felt much more orientated towards the students that were more inclined to stay in academia, due to a similar PhD to mine being 5 years instead of 3 years. There is also a requirement to publish papers during your degree, which is not required for mine (although I was not able to find out exactly how many was required!). PhD students also have a larger stipend in Sweden, which I believe is to attract the best away from industry and push young graduates into the academic world. Despite this, I believe that a PhD in the UK has allowed me to be more flexible with my research as the Swedish students were also required to conduct a certain amount of teaching undergraduates at the university, which isn't a requirement for my PhD. This allows me to focus more of my time on the research I am doing and, if I were interested in a different path to academia, allows me to move to that path more rapidly.    
In order to complete your PhD you have to pass a viva, which in essence is a presentation on your entire project that you give to a board of professors who will critique and judge you. I have done this previously for my Masters project, which was done in a small office with two internal professors. This is not the case in Sweden, however. One of the students in the group I was working was due to have his viva and I was invited to come along. Initially confused, as I thought it was only intended for a few people like mine had been, I soon realised that in Sweden they present to a lecture hall and the event is open to everyone, even the public if they would like! The student's presentation was amazing, but what I found incredibly intimidating was the fact that the principal examiner will grill you on your work in front of everyone. I was relieved that this was not going to be me as I would surely embarrass myself but at least when I do it will only be to a handful of people. This student did incredibly well defending his work and passed with flying colours! As he was Chinese and going back to China soon after, his supervisor had organised a traditional Swedish lunch to send him off, and we were all invited. The dish on the menu was Smörgåstårta, a sandwich cake made of bread, a lot of mayonnaise and some cold fish (salmon or shrimp were the options for me). This was the first time I had really tried something truly Swedish and it was amazing, very fatty and like a massive mayo and fish sandwich with a lot of layers but perfect to keep you full during the Swedish winter!
Whilst there, I was also able to attend the Materials for Tomorrow conference hosted by Chalmers University and organised by WISE (Wallenburg Initiative Material Science for Sustainability). This is an annual conference that covers innovations and research in material science in various areas of study, from my topic, sustainable batteries, to novel concrete and quantum devices. I was able to network with some of the professors presenting and learn more about their research and how material science can be used in huge scaled engineering projects to nanoscaled devices.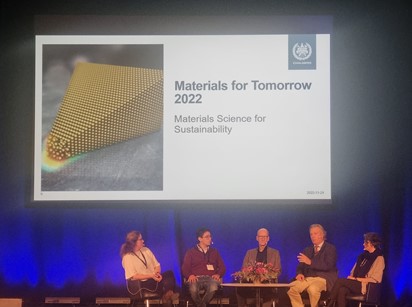 Living in Gothenburg
Spending three months in a foreign city can be hard knowing that you will leave soon. There was plenty of places to see during my time there, especially the lakes spattered around the city. Although the public transport within the city was amazing, it was difficult to go to secluded places without a car, which was a blessing in disguise as I was able to walk around places that I wouldn't have usually done so with a car. As well as visiting lots of lakes and walks in nature, there was no lack of places to visit within the city, such as various parks, historic monuments, and museums, although trying to understand some of the history of Gothenburg was difficult due to not knowing any Swedish! This being said, it was very impressive how good most of the Swedes were at speaking English, making it incredibly easy to talk to people, not only in the office, but also out and about in public!
I went to see the local football team play twice, which a much bigger event than I was expecting! From what I had heard, ice hockey seemed to be one of the biggest sports in Sweden, but the season was unfortunately ending, and tickets were hard to come by. However, I was surprised to be welcomed by a Premier League-style atmosphere with flares going off, packed stadiums and chants every 2 minutes (not that I could understand them). Although the football wasn't quite to the same style as we have here in the Premier League, it was thoroughly enjoyable and very entertaining. I was lucky enough to see the local team win the league whilst I was there for the first time in their history!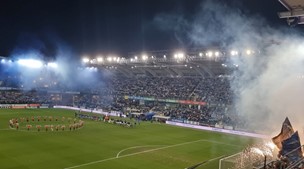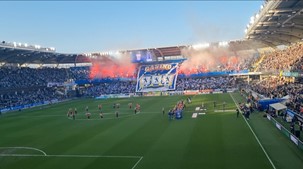 The weather was also an important factor to consider when visiting here. Initially it felt quite similar to the UK but when winter was in full swing, there was a noticeable difference to Bath! The lack daylight hours was one of the most difficult things to adapt to, towards the end of December it was like the sun would never even rise! Gothenburg is on a similar latitude to Aberdeen, to contextualise the weather. This wasn't helped by the cold snap where temperatures reached -15 degrees Celsius! Although during this week I had COVID so was stuck inside for most of this week, wrapped up warm with the heating blasting on, which may have been a blessing in disguise in the end, as I was unable to spend more than 5 minutes outside. Although with these low temperatures came a lot of snow, which was an added bonus! Once I felt better, I revisited some of lakes I had visited earlier in my trip to find them frozen over, and completely unrecognizable. There were even some completely crazy locals having a dip in the frozen lake! Safe to say I did not join them. The pictures below show the difference two months can make, this is the same lake in October and then again in December!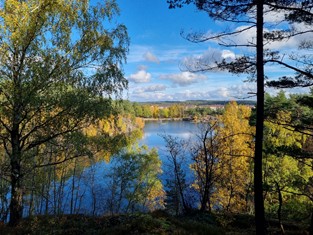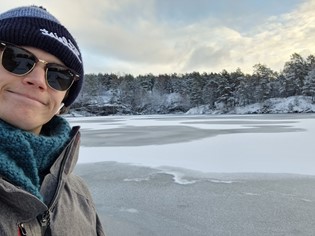 Concluding remarks
After a great couple of months in Sweden, I returned to Bath with mixed emotions. Although I thoroughly enjoyed the time I spent at Chalmers and made very good friends, I was happy to be back in Bath where I felt more at home due to the three years I have already spent here. I will keep in contact with the people I met and hopefully inspire some of them to even come over to Bath!
During my time, I was also able to discuss the potential of curating a two-day structural batteries workshop or conference here at Bath, so that their group can see how we conduct some of our experiments and be potentially inspired! It would also be a good excuse for a little holiday to the West Country and see Bath but I would get into trouble saying this would be the main aim, so I won't!
This trip would not have been possible without the AAPS International Travel Scheme and the Arthur Clements Fund, who funded this trip after applying to each of these funds. I would like to thank both of these organisations for giving me the opportunity to work in this amazing place and giving me a great experience! The application process was very clear and easy to apply to. I benefited from having strong initial links with Chalmers University and a clear project in mind to work on whilst I was in Gotenburg, which made it much easier for me to write my application for these funds.